posted by
sarah.binns2
on
Tue, 04/22/2014 - 15:21
Fruit Crumble is a very popular dessert in the UK.
It's very versatile, as almost any fruit can be used for the filling; this version combined fresh and tinned fruit.
Making a fruit crumble is also a great way of using up fruit from the fruit bowl which has become over ripe!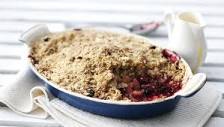 Ingredients:
2 pears
1 apple
1 nectarine
1 banana
Juice of half a lemon
3 tablespoons of golden caster sugar
200g flour
60g oats
100g butter chopped into small pieces.
100g Demerara sugar
30g flaked almonds
A handful of pumpkin seeds and sesame seeds
Process:
1. Wash and core the fruit, then chop it into 2cm pieces. Put it into a saucepan, add the lemon juice and simmer for 10 minutes.
2. Put the flour and butter into a large mixing bowl and rub the butter into the flour until it resembles breadcrumbs. Add the oats, Demerara sugar, almonds and seeds.
3. Pour the cooked fruit into a shallow baking dish or tin. Chop the banana and add it, along with the golden caster sugar.
4. Sprinkle the crumble mixture on the top, taking right to the edge of the dish to form a seal. Bake for 20 -30 minutes in the oven set to 180C/350F/Gas 4.
5. Serve piping hot with cream or custard.
healthy alternative:
You could substitute the butter in the crumble topping with a low fat alternative, or use half butter and half low fat spread.
Serving it with natural yoghurt, rather than custard is also a healthier alternative